Oracle ECM (enterprise content management) solution tailored by us to different business areas of our clients
Oracle WebCenter Content is a unified platform able to manage unstructured content (documents, images, videos, emails). It enables companies' business users to access this content in a proper format and within context of the applications they normally use at work.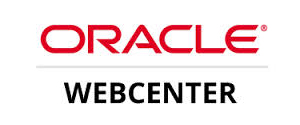 Managing content
WebCenter Content provides the services necessary for effective content management, data security and document sharing for both paper and electronic formats.
Organizing content items
Categorizing content
Managing PDF watermark (dynamic documents)
Document imaging solutions
Oracle WebCenter Enterprise Capture provides high-volume scanning and facilitates the transition from paper documents to electronic ones.
Oracle WebCenter Forms Recognition enables to recognize, categorize and extract information from any type of document.
Managing a Records life cycle
WebCenter Content provides additional features to manage a records life-cycle. The objective is to preserve only useful content. When the content has fulfilled its purpose in the organization, it can be disposed of or archived.
The retention schedule can be based on various elements:
Time-based (content has an expiration date)
Statistics on how often the content is used (read access, modification)
Event-based (ex: the closure of a file)
Document versions (ex: only the last validated version is preserved)
 Digital Asset Management
WebCenter Content provides additional features to manage, access and use digital assets and rich media.
It can automatically create thumbnails;
It can transform, compress images and videos and it can convert them to an appropriate format;
It can manage different image/video/audio formats;
It can extract XMP/EXIF metadata from image characteristics;
It can create and store multiple renditions.
AMIG is ORACLE Partner Network Certified Specialist
Certificate of Oracle WebCenter Content Specialist
Certificate of Oracle Documents Cloud Service Specialist

Find our more about Oracle WebCenter Content
Consult Oracle WebCenter blog: